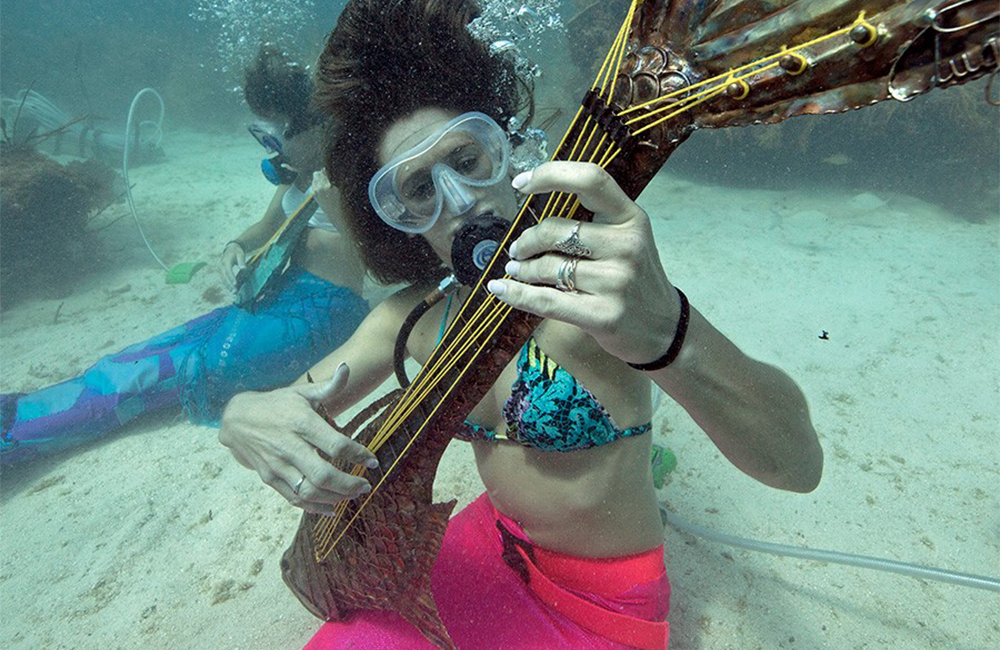 Playing in Paradise
The Lower Florida Keys offer a wide variety of activities and attractions, including native animal life, serene beaches, tropical treats, and exciting water sports.
Explore a historic shipwreck with your own eyes as you dive in our colorful, clear underwater paradise.
Diving is the best way to see one of the Lower Keys' natural wonders:  Looe Key, which is not a Key at all, is a spur and groove reef that is part of the Keys-wide Florida Keys National Marine Sanctuary.  Designated as a Marine Sanctuary in 1981, Looe Key was named after the H.M.S. Looe, a British frigate that sank there in 1744. Ballast stones of the H.M.S. Looe remain in the Sanctuary as eerie tombstones.  This 5.3 nautical mile park is fully protected from spearfishing, fishing & shell collecting. Looe Key is known as the most spectacular living reef in North America for its diverse population of corals and its colorful array of tropical fish. Because of its unique shape and varying depths, Looe Key is ideal for scuba diving & snorkeling at all skill levels. The Lower Keys Chamber of Commerce holds their internationally famous Annual Underwater Music Festival at Looe Key every July.
Besides beautiful Looe Key, the Lower Keys also offer superb diving in the patch reefs and shallow ledges. A mini-wall of 60-100 feet is also a favorite dive spot. Lower Keys dive shops are completely equipped for all snorkeling, diving, and related activities. Outside of the Sanctuary, spearfishing and lobstering (season, Aug.6-Mar. 31) are permitted with proper licenses.
The newest attraction to the Lower Florida Keys underwater paradise is the "Adolphus Busch Sr." On December 5, 1998, the Lower Keys Artificial Reef Association sank the wreck, creating a new underwater recreational site. The 210-foot freighter sits perfectly upright in 110 feet of water. Scuba divers can explore the inside of the ship, while snorkelers can view it from the top, as the ship's towers rise to within 40 feet of the surface. Located halfway between Looe Key Reef & American Shoal, a series of floating markers serve as mooring buoys. (Lat 24.31.81N/Long 81.27.64W)
Local dive shops have trips to Looe Key twice daily (usually at 8:30 a.m. & 1:30 p.m.)  as well as night dives. Many private charters provide flexible times to Looe Key and other popular diving and snorkeling areas.
Whether you are an expert or a novice, the Lower Florida Keys have something for every angler. Any time of the year you can find something that will take your bait. Offshore fishing produces such species as the blue and white marlin, shark, wahoo (the fastest fish in the ocean), mackerels and most any kind of tuna imaginable. And then there is the barracuda, one of the most underrated of game fish. It is capable of powerful runs and impressive jumps.
Other fish often found on the reef include mackerels, sharks, jacks, and cobia. Springtime in the Keys means tarpon. These migrating giants take a few months off to feed on mullet or pinfish and relax in the channels under and around many of the bridges.  Only in the Keys can an angler venture just yards from shore and do battle with up to 200 pounds of aerial, acrobatic fish!
Winter is the best time for the prized sailfish. These sleek, spindle-beaked fish are admired for their "tail-walking" runs. Sails are prized wall mounts, yet with today's taxidermy technology, releasing a sail for future fishers is preferred by most sport fishing enthusiasts.
The many flats on both the Gulf and Ocean side of the Lower Keys are a favorite place to find tarpon and other shallow water fish such as bonefish and permit. Often neglected by the shallow water angler are sharks, barracuda, and snapper; all can be found by fishing the right flat at the right time. The flats are also great for light spinning and fly-fishing. 
Groupers are the undisputed kings of the inshore reefs. They often leave only disappointment and broken lines as they dive toward the protection of their reef home. While the large groupers are the kings of the reef, the snappers are surely the staple. Snapper fishing takes place all year long and is done in 60 to 100 feet of water. Be well advised to use lots of chum and light lines to attract these plentiful, but wary, creatures. The most common snappers include grey or mangrove, yellowtail, mutton, and lane. 
In general, the summer offshore belongs to the Dolphin (Mahi-Mahi, not "Flipper!"). These fish are known for their beautiful blue, green and gold color.
There are many qualified Charters in the Lower Keys or you may choose to rent a boat.  Any first-time angler to the Lower Keys can, with a few pointers from the local bait and tackle shops, go out and find fish. Whatever your taste and experience level, no trip to the Lower Keys would be complete without a day on the water and a fish on your line.  Please familiarize yourself with our rules and safety regulations, so you can thoroughly enjoy your time with us here in the Lower Keys.
Click here for current FWC fishing regulations for the Florida Keys.